You've heard time and time again that sitting is bad for you. From poor posture to nerve problems, sitting anywhere for extended periods can increase your risk of all kinds of detrimental health problems. But what can you do other than remind yourself to sit up straight every chance you get? Stretch in the mornings? Drink more water? While these things certainly help, why not stop the problem at its source? Your desk chair.
When you give your body the support it needs throughout the day, it will support you back! Most office employees don't realize they don't even need a fancy, bells-and-whistles type of chair to solve their ailments. All that is necessary to properly support yourself while sitting is adjusting your chair to your specific needs, such as height, weight, leg length, and lumbar support. Here are 3 chairs that get the job done, so you can do yours, pain-free! 
1. La-Z-Boy® Commercial 2000 Big/Tall Executive Chair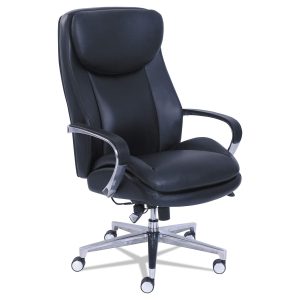 This La-Z-Boy offers some serious style, but with great style comes great usability. Considered an executive chair, this adjustable style allows for comfort while being smart about keeping your body supported. With La-Z-Boy's DLS (Dynamic Lumbar Support), the Commercial 2000's lumbar self adjusts to different posture states as you recline. Not only this, but it also comes with ComfortCore® seat cushioning with Gel Memory foam seat construction. Comfy, cozy, and supportive all around! 
Interested in this style at Office360? Item number: LZB48956
2. Ignition 2.0 Task Chair With Lumbar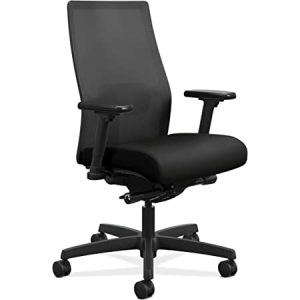 Hon has become one of Office360 customers' most favored furniture brands, which isn't for no reason!
The Ignition is a cheaper option compared to the executive-style chairs, while still coming complete with the bells and whistles preferred to keep you comfortable all day. Standing out with its adjustable lumbar support, this feature adjusts based on the user rather than preset levels of support. In addition, Hon's synchro-tilt control allows the user to recline comfortably at all angles and adjusts the tension accordingly.
Interested in this style at Office360? Item number: HONI2UL2AC10TK
3. Alera Elusion II Series Mesh Mid-Back Swivel/Tilt Chair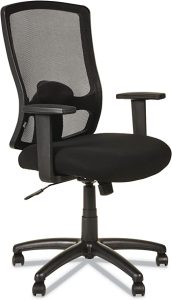 Meant to support the person sitting on it, the Alera Elusion II one has built-in foam molded contours for back support as well as an ergonomically designed frame. This chair is an excellent option for decking out an entire office with supportive and comfortable furniture. The mesh style back upholstery allows for breathable circulation, while still maintaining that same adjustability of not just the arm height but also the width of the chair as well. This frame was designed specifically for comfortable, proper sitting posture. 
Interested in this style at Office360? Item number: ALEELT4214F
While putting the correct chair in your space will greatly improve your posture and comfort, we can't forget about the basics. Make sure you're taking breaks from sitting throughout the day. Mayo Clinic suggests standing or moving every 30 minutes if possible. Here at Office360, we understand it's not that easy! Other great tips for overall health from the Mayo Clinic include taking a walk with a colleague instead of sitting when you have one-on-one meetings or even getting a standing desk for your workspace. Don't worry- we have those too. 😉 
***This article is not meant to replace professional medical advice.***
https://health.usnews.com/wellness/articles/2017-01-05/can-lumbar-support-devices-relieve-lower-back-pain
https://www.mayoclinic.org/healthy-lifestyle/adult-health/expert-answers/sitting/faq-20058005#:~:text=Research%20has%20linked%20sitting%20for,that%20make%20up%20metabolic%20syndrome.