Whether you're putting together a trendy pre-event package or new launching product promotion, putting together promotional product kits can really elevate your marketing. Combining related items in kits often adds value to the overall promotional items. Kits can also include instructional and brand information and also coupons. 
When it comes to kitting, there are a few good rules of thumb to follow when choosing your items and vendors. You want to make sure you are thinking about quality over quantity for your items. There is more meaning in a single item of higher quality than a box full of disposable items. Be conscious of how the items you choose will reflect your company brand before making and decisions.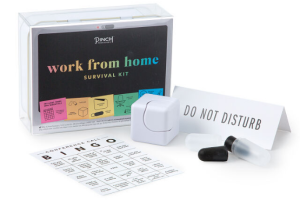 Work-From-Home Kits
In the world today, we are seeing many companies think about sending out promotional product kits not just for their customers, but also for their employees. It is a creative and effective way of staying in touch with their employees as many are working remotely. Working from home can be extremely challenging for your employees. Several people probably feel isolated and disconnected from the company. Sending a small token of appreciation can go a long way to let them know you appreciate everything they are doing.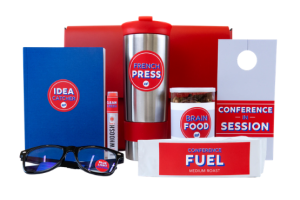 Virtual Events & Holiday Party Kits
In addition to Work-From-Home Kits, we are also missing out on a lot of in-person events. Whether that is onboarding, an online trade show, contest, or a post-meeting social, connecting the kit to the event's theme or a specific activity will keep recipients engaged.
Holiday parties are traditionally a wonderful way to get teams together and spend time celebrating and getting to know your co-workers better. A great way to keep the camaraderie alive while maintaining social distancing is to host these events virtually. These virtual get-togethers can be just as exciting for your employees. Think about adding a pre-packaged kit they can pick up so everyone can have something to use during the virtual event. Your employees will have a blast and have some lasting items for their company to keep as a memento.
When it comes to branding in a kit, don't be shy about emphasizing your brand's identity.  A kit must reach across a greater distance. Don't be afraid to lean into who your brand is with unique items that resonate with your identity. Choosing these kinds of purposeful items will help create an emotional connection to your brand.
It's certain that promotional product kits are here to stay. They are a great way to connect with your audience and make an impact – whether that be a prospect, customer, or employee. If you want to get started on your own kitting project, email our branding team today at branding@office3sixty.com.