The pandemic has drastically shifted the workforce over the past 9 months. As many have migrated to working from home, we must learn new ways to re-open your workplace safely. One of the areas in the office that will need to be transformed is the post-pandemic breakroom.
While the breakroom is a place where relationships blossom, it is important to mitigate risk to keep everyone in the office safe. As more employees begin to head back, it is essential to have the space updated and redesigned to keep morale up while also diminishing safety concerns. By reviewing these considerations and CDC guidelines, you will be able to create a safe and healthy space for employees to interact throughout the day. In this blog post, we will give you a few steps on how to create a lively but clean breakroom.
---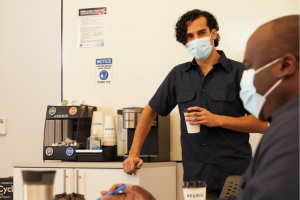 Single Serve Items
To decrease contact, moving back to single-serve items is one way to stock your post-pandemic breakroom safely. The CDC recommends avoiding any communal snacks, coffee pots, water coolers, and silverware. By switching items in the breakroom like a communal coffee pot to a Keurig and shared snacks to small economic snack bags, you can do your part in limiting employee interaction. Although single-use items may go against sustainability efforts, this is an important and necessary step to ensure the health of your employees. Also, there are ways to continue the recycling practices you have implemented. Some of these include adding additional recycling bins around the office, purchasing compostable single-use utensils, and engaging in Keurig's K-cycle program to recycle single-use coffee pods.
---

COVID Signage
While your office may not be at capacity, one way to ensure safety is with signage across the office. Simple reminders are a way to keep everyone healthy and engaged in office life. In addition to this, you can add signs about limiting occupancy in common areas. Having fewer people in these spaces makes distancing easier. Signs about COVID protocols will also help verify that employees are following office policies and procedures.

---
Touch-Free Options
Fostering a safe environment means having fewer touchpoints throughout the office, especially in the post-pandemic breakroom. A few ways to limit this is by installing motion-censored sinks and soap dispensers. You can also put motion-censored hand-sanitizer stands throughout the office to encourage a cleaner office atmosphere. Using counter space for storage instead of drawers is another way to limit people touching surfaces.

---
Invest in Equipment & Supplies
By adding equipment to the breakroom, you can limit the use of each machine. Purchasing an extra microwave or refrigerator can change the number of users daily. The fewer people using each makes them safer for everyone. In addition to this, it is important to invest in cleaning supplies throughout the office. Providing anti-bacterial wipes and other supplies will allow you to have employees wipe down areas.  Using disinfectants and cleaners around the office will minimize risks around the office associated with the virus.
Keeping these precautions in mind, you will be able to re-create your breakroom in a safe and healthy way. As the virus continues to stay present in our lives we will have to continue to adapt and consider alternatives to activities we have done in the past. These few steps can help alleviate some COVID concerns while also boosting employee morale.