COVID-19 caused businesses all across the country to be proactive in making the needed adjustments to work outside of the office. With the pandemic seemingly coming to an end, it's time for workers to start returning to the office!
With returning to the office comes great responsibility to return as safely as possible and not put anyone's health at risk. We want businesses to feel that they are in a safe environment and not that they may be in danger of contracting COVID-19 or other diseases while working in the office. Fortunately, Office360 is here to help!
Office360 has been hard at work, making sure that employees are returning to the office safely as possible. To help these employees, Office360 has designed back-to-work kits including different cleaning and sanitizing products to help keep your workspace safe!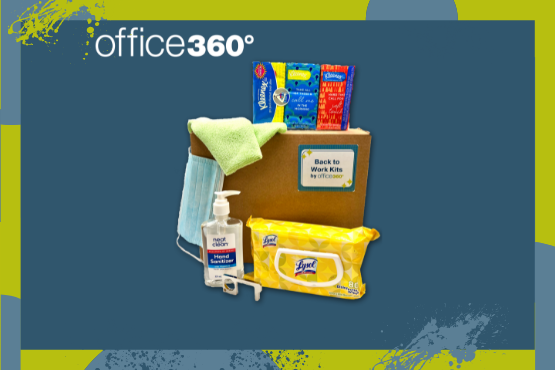 Here are the items that are included with our unique back-to-work kits:
LYSOL® disinfectant wipes (RAC99716CT)
Pandemic Mask (CNX-3PMASK)
Neat Clean® hand sanitizer (BNX-HS8OZ)
Microfiber Cloth (BWK16GRECLOTHV2)
Kleenex® Tissues (KCC-11976)
Touchless Office360® Key (Custom)
With all of these top-of-the-line sanitizing products, we hope that we give our customers a headstart on sanitizing their office. These kits are designed to help workers feel more at ease as they begin transitioning from working remotely to working face-to-face.
Not only is Office360 providing top-of-the-line cleaning and sanitizing products, but we also make custom kits specific to your business! Choose from our premium products and customize your own back-to-work kit. Check out our promotional website and see how Office360 can help your company's needs with custom kits that cater specifically to your business needs!