School is back in session, which can only mean that sniffles and sneezes and coughs will soon follow. Luckily, Office360° is ready with everything you need to keep your classroom healthy.
Let us help you start the new school year prepared! Read on for three simple products that will help you minimize the spread of germs this semester – beyond masks and hand sanitizer.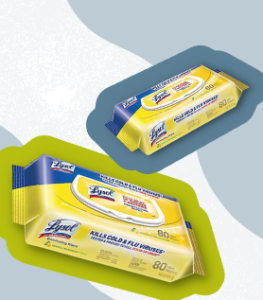 Goodbye COVID, hello learning! Let's begin.
Portable Lysol Flatpacks
These portable disinfectant wipe flatpacks from Lysol are easy to stash, so you can keep areas clean wherever you go, all with a refreshing scent.
An affordable option you can use on the go, these extra-thick, pre-moistened wipes are effective against COVID-19 and kill 99.99% of viruses and bacteria. They are designed to comply with OSHA Bloodborne Pathogen Standards and are safe to use on electronics, touch screens and all hard surfaces. 
Whether you keep them for yourself or give them to your students, these packs will help keep surfaces clean and everyone safe!
Fellowes Air Purifiers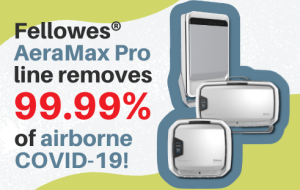 Did you know that indoor air is 2- to 5-times dirtier than outdoor air, according to the EPA? That is, until Fellowes' purifiers get a hold of it.
Fellowes' Aeramax Pro line uses four-stage hospital-type filtration to effectively clean transmission areas. The technology's AeraSmart™ Sensor monitors air quality and automatically adjusts the fan speed to keep your air purified. Meanwhile, its True HEPA filter with antimicrobial treatment safely removes 99.97% of airborne particles as small as 0.3 microns, including allergens, viruses, and cigarette smoke. 
Remove 99.99% of airborne COVID-19 particles with these air purifiers and reduce the airborne spread of illness! 
Purell Food Safe Surface Disinfectants 
This one-step disinfectant and sanitizer offers powerful germ-kill that eliminates 99.9% of viruses and bacteria – including cold and flu, strep, norovirus, Listeria, MRSA, VRE, and human coronavirus. Designed to accelerate the germ-killing power of alcohol, it dissipates quickly and cleanly with no streaks or sticky residue. The light, citrus fragrance gives you the peace of mind to use around others.

With no harsh chemicals, no precautionary statements and no handwashing required after use, this product is EPA Design for the Environment certified and has the fastest overall disinfection times of any DfE product. Proven on most hard and soft surfaces, it can even be used on food-contact surfaces with no rinse required!
Looking for other types of supplies?
Need something more than these? Don't worry; we have you covered there, too! Click here to browse all of the school supply options we have available. If you're looking for something specific, you're always welcome to reach out to your sales representative or a member of our team with questions. 
Whatever you need, you can find it here. Let us know how we can help keep families and communities safe and healthy!